Best Sellers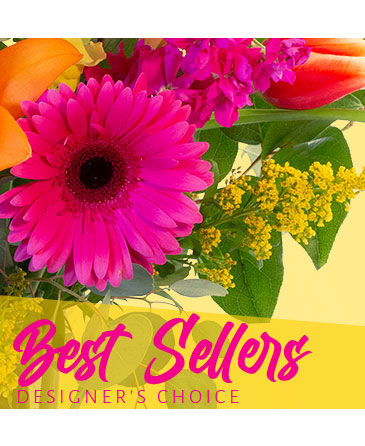 Beautiful Best Seller
Designer's Choice
If you can't decide on the perfect flowers, we've got you covered. We know these flowers will impress because they're our best sellers! What better way to encapsulate all these beautiful flowers than with an arrangement designed by our expert florists? Send our Designer's Choice Best Seller arrangement today.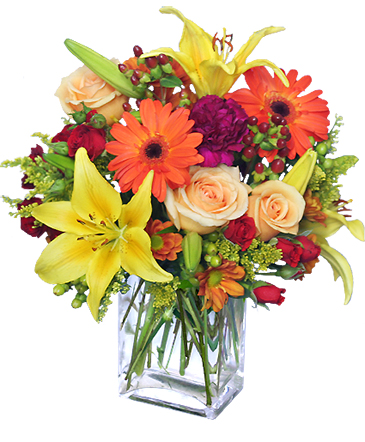 Floral Spectacular
Flower Vase
Make any occasion spectacular with this superb bouquet! Featuring gorgeous yellow lilies, peach roses, orange gerberas, fuchsia carnations, and more, Floral Spectacular is filled to the brim with vibrant and colorful flowers. Send some pizzazz to your loved one with this stylish bouquet!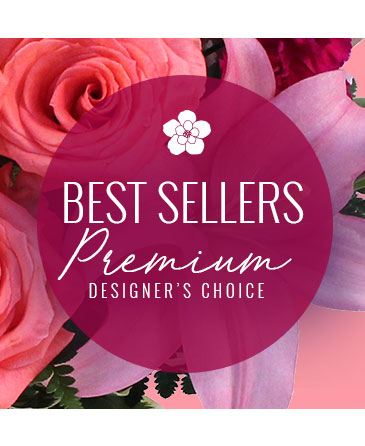 Our Best Seller
Premium Designer's Choice
The most popular flowers are for the most special people. These flowers have warmed the hearts of many, and we've arranged them all in our Premium Designer's Choice Best Sellers bouquet! Send our magnificently beautiful, best-selling florals to someone you love today!
Our best sellers are a great opportunity to find that perfect flower arrangement for your loved one, from the classic dozen roses that will inspire love and romance, to the perfect for anniversary sweetly scented, a mix of lilies and roses with a touch of white orchids, the perfect love bouquet is a great choice to send this beautiful fresh flower arrangement to any location in Mcallen , Edinburg , Mission or Pharr , Tx. our team of florists in mcallen is ready to arrange any of this beautiful bouquets of fresh flowers, our mission is to provide you with the best quality of service, we are the most trusted flower shop in Mcallen and our services include flower delivery to other cities in the rio grande valley ,as a Mission, Tx florist we are renown for the quality of our fresh flowers and our flower shops are at the top of the quality scale, we can deliver the freshest flowers to any city in the valley specially the ones surrounding Mcallen , Edinburg Texas florist shop will give you the best variety of flowers for less money, we guarantee the freshness of our flower delivery to pharr, tx. we are also renown florists in the Alamo , San Juan , Tx area and we can do your flower delivery in a matter of 2 hours or less.
What a great chance to make that ocassion even more special, with Flower Hut best sellers section you get a great variety of fresh flower arrangements choices, our flowers will make any heart beat with romance and love, call us to get your flower bouquet to Mcallen as soon as possible , as our flower shop in Edinburg has rush delivery service and our flower delivery are made in a hurry to please you and the recipient, the florist in Mcallen that will make that day unforgettable is Flower Hut.
The Donna and Weslaco, Tx area has just been added to our delivery area, now you can enjoy the service of a top quality florist in a small town, we proudly serve all the following cities: Mcallen , Mission , Edinburg, Pharr, San Juan, Alamo, Donna, Weslaco, La Joya, Sharyland.
Please call us with any special requests, since we deliver the freshest flowers designed by our team of florists to any of this cities and outside this area we can also send your flower arrangement, same day delivery is available of beautiful florist designs . Mcallen, since is the city where we are located usually takes less, we guarantee you the difference in our floral; designs , since our flower shop has more than 22 years experience in the fresh flower industry,importing the freshest flowers from around the world to your front door, thank you sincerely, flower hut staff, office, florists, delivery personnel.